We offer professional, prompt, and cost-effective translations for over 50 languages. Every project is managed and shared by a specially selected work group, so as to guarantee optimal linguistic and technical results; an experienced project manager acts as the primary contact person for each client. Our project manager is responsible for the project life cycle from the initiation to the closure process.
1- Project Initiation:
In this phase, the localization request is received from the client and assigned to a project manager who is responsible for:
Analyzing the project and identifying its scope (translation, reviewing, DTP …etc).
Checking all the source files (DTP/Translation) are complete and not corrupted.
The files are prepared for translators in the needed format according to client input and required output.
2- Project Planning and Evaluation:
In this phase, the project manager will:
Develop the schedule and the project time frame.
llocating required resources to the project either for translation and DTP lifecycle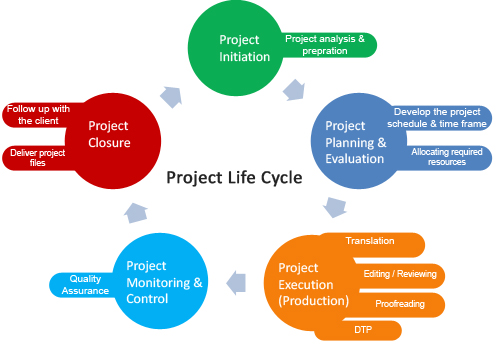 3- Project Execution:
In this phase the project production takes place and includes the following:
a. Translation
The translators proceed with the given job according to the client instructions. Files are distributed to the translators and they work on the shared TM to maintain consistency.
b. Editing/Reviewing
The experienced reviewers check the translation for invalid or inconsistent terminology, grammatical mistakes, inconsistent format string, missing punctuations, and check that the client instructions have been implemented.
c. Language proofreading
A Language QA Specialist reviews all the files considering style, grammar, cultural issues and any other language-related issues.
d. Pre-DTP Localization Engineering
After finishing all the translation and QA phases, the files are sent back to the Localization Engineer to re-convert them back to the desired format in order to be sent to the DTP.
e. Desktop Publishing (DTP)
In this phase, the DTP specialists perform a number of procedures to fix the layout and formatting of the translated material. It includes
1. Adjusting the layout and master pages according to the language specifications.

2. Fixing the formatting by applying the appropriate character and paragraph styles.

3. Applying the language specific conventions.

4. Creating a draft PDF for QA and proofreading purposes.


4- Project Monitoring and Control:
In this phase the QA check takes place in which:
Quality Assurance (QA)
In this phase, the QA specialists perform a QA check on the target PDF file against the source file, and check if all DTP standards, language needs, and client's instructions are implemented.
5- Project Closure:
All the reports of the QA phase are sent back to the DTP specialist to apply them in the original files and regenerate the final PDF to be delivered to the client.